Golden Leopard Set
This Set comes with everything you see here. Ebonnet, standard size pillowcase, Hooded scarf and two scrunchies.
SHOP NOW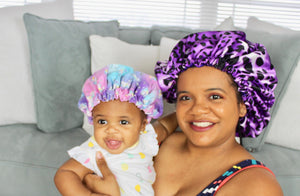 Great for keeping all the moisture on you babies hair and not on her pillow while she sleeps and protects the hair from breakage.
SHOP KIDS BONNETS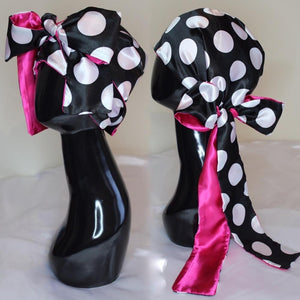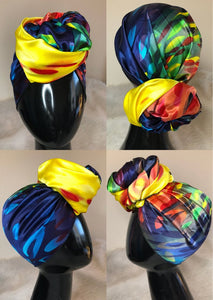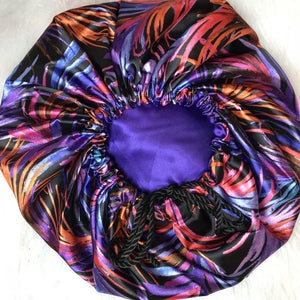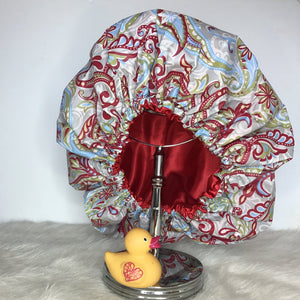 ABOUT
Eboni of EboniCurls, is a natural hair enthusiast that enjoys sharing her natural hair journey with ladies of all hair types. Eboni began sharing her hair journey on YouTube in 2011, along with sewing tutorials. Eboni has designed the over-sized double lined satin drawstring Ebonnet to protect your hair during your slumbers. Eboni hopes to inspire ladies of all hair types to protect and love their curls, kinks, coils and waves. Eboni and the Ebonnet has been featured on Essence.com, LA Talk Live radio, and
by many other hair enthusiasts, bloggers and vloggers.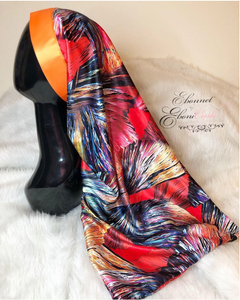 Store Policies
*All sales are final
*Shipping- Please allow up to 30 business days before shipping due to the amount of orders I receive. It never takes the entire 30 day waiting period. Usually 5-15 days depending on the amount of orders placed before your order. All items are handmade by me in the order I receive them.
You will receive a delivery confirmation email with a tracking number once it is shipped.
Returns and exchanges now if it is within the first 5 days of the tracking saying it was delivered and items unworn, unwashed (no oil stains and no smell of product.